Book a Dryer Vent Inspection
At No Cost & No Obligation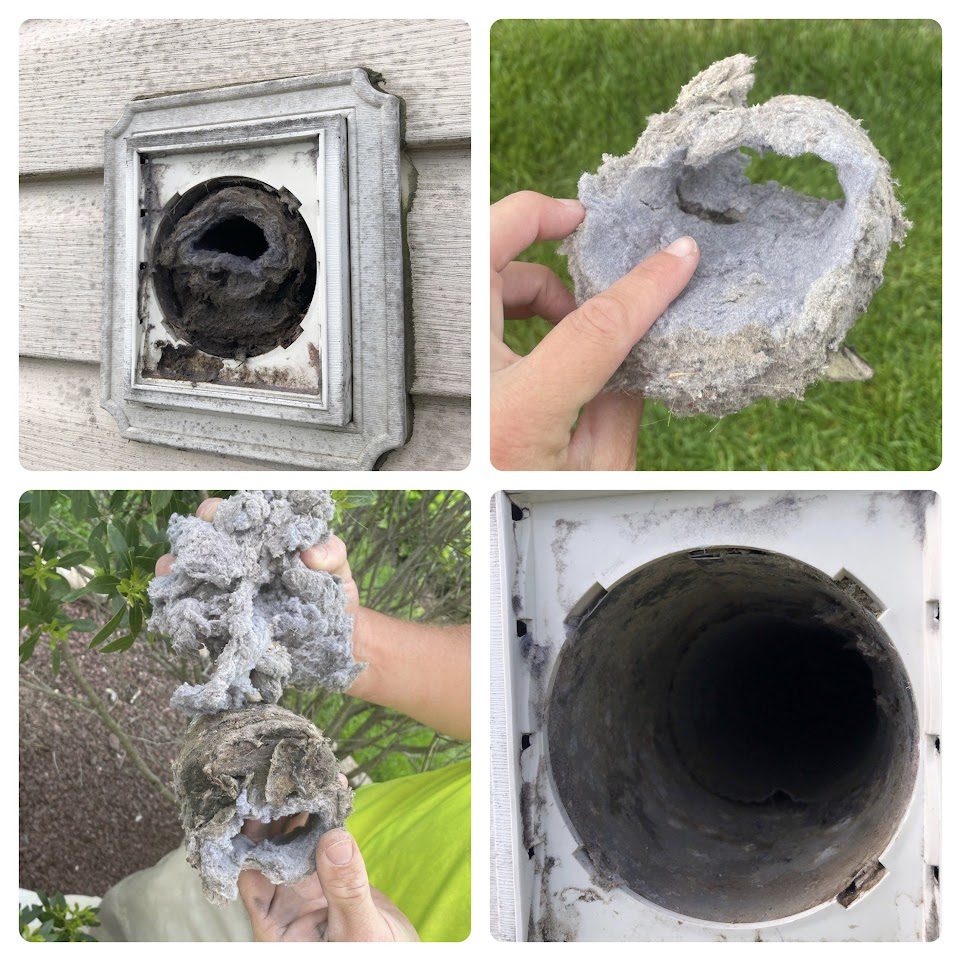 Why Should You Clean Your Dryer Vents?
Dryer fires are the leading cause of home fires in the United States. According to the National Fire Protection Association (NFPA), the most common cause of dryer fires is failure to clean and maintain the vent system.
The buildup of dryer lint is the most common source of ignition. Every year, dryer fires kill 13 people, injure 444 people, and cause over $200 million in property damage. With regular cleaning, you ensure the following:
Prevent fires

Improve air quality

Decreases lint/dust

Reduces risk of co-poisoning

Reduce mold build-up

Save energy

Saves electricity

Prevent wear on clothes

Prevent wear on dryer

Saves money
Signs Your Laundry Vent Needs to Be Serviced
The main factor you should pay attention to is the accumulation of lint and dust in your dryer as well as the exterior vent cover on your home. To make sure your dryer continues to operate efficiently and to prevent potential issues like a dryer fire down the line, it's essential to pay attention to certain common signs. These signs encompass:
The necessity to run the same load through the dryer multiple times.

Detecting a musty odor emanating from the drum or clothes.

The dryer's top becomes excessively hot to the touch after each use.

Noticing error messages or blockage codes on the dryer's display.

Prolonged drying times for your laundry.
Why is Dryer Vent Cleaning Services Important?
Fire prevention is the main reason dryer vent cleaning is important. 
As lint accumulates within a dryer duct and its vent, it obstructs the airflow through the duct, leading to a potential problem. This obstruction can result in an alarming rise in temperature within the dryer. When dryer coils become excessively hot, they can release flammable substances, which could ignite and quickly transform an overheated dryer into a dangerous fire hazard. 
Rest assured; our expert technicians at Applied Power Wash in Collegeville, PA, hold the necessary skills to clean your vents and ducts thoroughly. They are rigorously trained and fully certified to eliminate all lint, dust, and buildup from your dryer vents, ensuring your appliance operates at peak efficiency without the looming threat of a disaster.
What are the Benefits of Dryer Vent Services?
1. Saves You Time and Money
Our expert dryer vent cleaning services offer numerous advantages beyond fire prevention, including decreased energy consumption and enhanced dryer performance. When lint accumulation restricts the airflow in the dryer, it operates with reduced efficiency, requiring more effort to dry clothes and consuming additional energy. Consequently, this leads to increased energy bills, potential repair expenses, and the eventual need for a replacement. 
2. Reduces Mold Build-Up
An additional benefit of our expert dryer vent cleaning services is that it decreases mold build-up. As dryers are continuously used and maintenance is ignored, mold accumulation can occur due to wet clothing. Not only is mold accumulation bad for your dryer, but it is harmful to you as mold carries bacteria that can give rise to illnesses and diseases. Maintaining your dryer vent can reduce mold and ensure the safety of your dryer and the people in your home.
3. Prevents Fires
Applied Power Wash's intensive dryer vent cleaning processes can effectively clean your dryer vents, using quality equipment to thoroughly clean out your dryer. This process ensures that the vents are entirely free of any accumulated debris. By doing so, we help prevent your dryer's motor from overheating and eliminate the risk of a potential fire hazard.
Other benefits include:
Air quality improvement

Decrease in risk of co-poisoning

Saves electricity

Reduces clothing wear
Recommendation for How Often You Get Your Dryer Vents Cleaned
Our experts recommend at least one dryer vent cleaning service per year, but if your household uses the dryer frequently, consider having it cleaned every six (6) months.
Contact Applied Power Wash for Dryer Vent Cleaning Services
Trust our experts to provide professional dryer vent cleaning services to your Collegeville, PA, home. Our dryer vent cleaning services start at $129 for a full dryer inspection and cleanout. Schedule your appointment with us today.
Recommendation
Our experts recommend at least one dryer vent cleaning service per year, but if your household uses the dryer frequently, consider having it cleaned every six (6) months!
Our Pricing
Dryer vent cleaning costs start at $129 for a full dryer inspection and cleanout. Contact us for more information on pricing or about our services.