Book a Free Estimate
At No Cost & No Obligation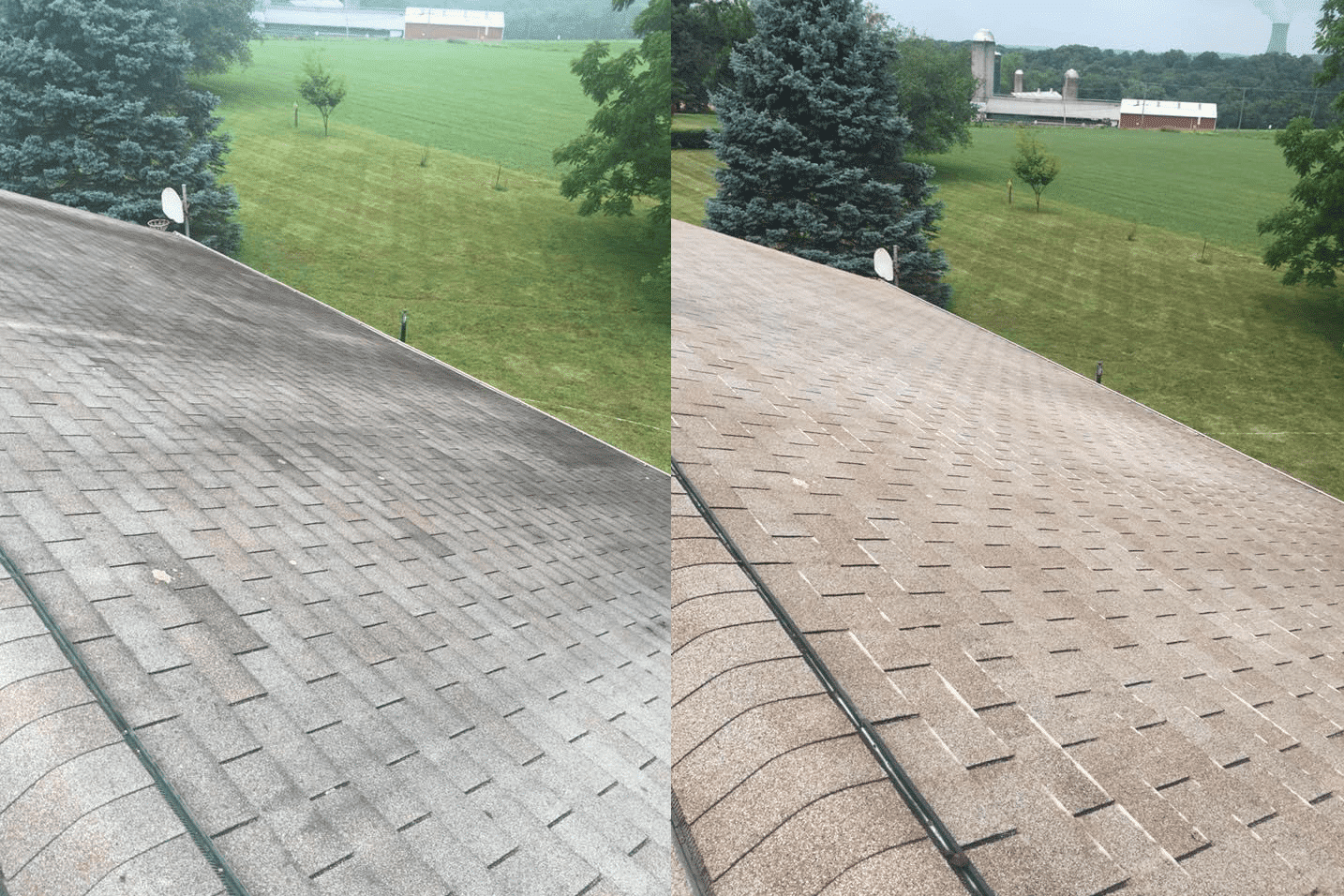 Timely Care Can Save You Money
There are many things that can go wrong with your roof. One of the most common signs of the problem is staining caused by a bacteria called Gloeocapsa Magma. This is the main culprit for most of the roof staining throughout the US.
Other than bacteria, organisms like mildew and algae add to the trouble. However, they are not as destructive as some of the more aggressive bacteria and fungi. And fungi like moss and lichen are very common occurrences. These fungi can also contribute to the deterioration of your roof over time.
The good news is that these stains/microorganisms can be safely removed. We can help you remove unsightly roof stains with controlled roof soft washing.
Roof shingles are very fragile. That's why our team is very careful while working. Want careful and meticulous roof soft washing service? We are just a call away.
The Importance of Roof Cleaning
Roof cleaning emerged as a new industry in the late 1980s and early 1990s. Initially, it was a basic cleaning process to remove black streaks on roofs. However, treating these streaks as organic infections with algaecides revolutionized the industry.
Bacteria and other microorganisms including mold, fungi, algae, mildew, lichen, and moss can accumulate on roofing surfaces and create black streaks. They thrive in warm and moist environments and can be metabolized with certain roofing shingles. It's essential to be aware of this bacterial growth as it can not only cause damage to your roof but also cause harmful toxins to reach the inside of your home, potentially affecting you and your family. 
How Shingle Deterioration is Caused
The growth of fungi and algae on a roof possesses root systems that can harm shingles by causing lifting, spreading, and decomposition. Additionally, various external factors, including erosion from natural elements or alternative roof cleaning methods, can also contribute to roof damage. Below is a deeper look into shingle deterioration:
Shingles deteriorate because of waste created by bacteria metabolization.

Excess heat caused by the darkening of shingles deteriorates them.

Algae and fungi are attracted to limestone which causes certain fillers to deteriorate.

Shingles deteriorate because of decomposition from fungal filament root systems.
Cleaning Methods and Techniques
Our roof soft washing services at Applied Power Wash go beyond mere cleaning; they sanitize, penetrate, and eradicate the root cause of stains. The primary culprit behind common roof black streaks is the bacteria Gloeocapsa Magma, which soft washing can eliminate from the root up, ensuring a genuinely clean surface. These unsightly stains and microorganisms can be effectively eliminated. 
We help in safely removing roof stains through our controlled roof soft washing method. Our skilled professionals use expert techniques to effectively clean and soft wash your roof without causing damage to the shingles. 
Why Choose Us?
Choose Applied Power Wash in Collegeville, PA, for roof soft washing. Why? We use a meticulous process to thoroughly clean your roof with our top-of-the-line equipment. We also perform a visual check of your roof to ensure that it stays clean and is free of bacterial and fungal growth.
When you hire us for roof soft washing, we will outline a customized roof cleaning maintenance plan that is optimal for your requirements. No matter the size and scope of the project, our team at Applied Power Wash can tackle the job. Whether it's a two-story house with varying angles or a rancher with a flat roof, we offer the same level of performance for all homes. 
Contact Us to Schedule a Free Estimate!
When you contact us for an estimate, we assure you that there are no upfront costs or obligations involved. We will simply provide you with a run-down of your roof soft washing job and inform you of the costs involved. Contact us today to book your estimate!
Our Tips
Do visual checks on your roof regularly.
Our Roof Care Plan
We can create a customized roof cleaning maintenance plan for you.
Pricing
Type/Description
Size (Approximate Sq Ft)
Pricing
Single Story House (Ranch, Cape, or Split with Flat or Low Roof Pitch. (Asphalt Shingles)
Generally, No More than 2000 Sq Ft with No:
(Angles, Dormers, Skylights, or Additional Features)
Starting at $299 + tax
Two Story House with Low Roof Pitch and No
Angles. (Asphalt Shingles)
Generally, between 2000-3000 Sq Ft with No:
(Angles, Dormers, Skylights, or Additional Features)
Starting at $399 + tax
Two Story House with Higher Roof Pitch
And/or Different Angles. (Asphalt Shingles)
Over 3000 Sq Ft Homes or Complicated Roof Designs, or Structure
Starting at $499 + tax
**Prices include the professional soft washing of the entire roof surface and the soft rinsing of problem areas when necessary. It also covers the preparation of all lower areas, including landscaping. Please note that it may take a week or two to achieve the complete effect after the service has been performed.