Roof soft washing has become a popular way to clean roofs without damaging them.  In fact, many insurance companies are now requiring homeowners have their roofs cleaned, especially before or after the sale of a home. With this method, you can remove all of the microorganisms (algae/mold/mildew/spore) safely and effectively. It's No wonder why roof soft washing is becoming more popular!
Even though it takes longer than a traditional pressure washing process, it is worth waiting for because it leaves your roof cleaner and it lasts much longer afterwards. Pressure washing your roof will often remove granules and cause damage to your roof even possibly causing leaks in the future. If you're looking for a great way to keep your home in pristine condition, then roof soft washing is an excellent option to consider.
What Is Roof Soft Washing?
Roof soft washing refers to a unique exterior cleaning method that uses a low-pressure stream and specialized cleaning solutions. A soft washing system typically comprises of specific low pressure pumps with a wide spray or special low-pressure nozzle and a biodegradable cleaning solution. Cleaning solutions used for soft washing your roof remove all of the microorganisms (algae/mold/mildew/spore) as well as any unwanted organisms living on your roof.
How Does Roof Soft Washing Work?
Our Soft Wash solution consists of a chlorinated algaecide, often bleach, as well as a proprietary Roof Cleaning surfactant which is diluted in a manner and ratio specific to your Roof's condition and cleaning needs.  The solution is gently applied to the Roof surfaces using specialized pumps that use less pressure than what typically comes out of your garden hose.  Our method applies our Soft Wash solution correctly across the entire roof surface allowing it to dwell and remove all of the microorganisms (algae/mold/mildew/spore) safely and effectively.  Once we are completed with our process, the black streaks will be gone and the roof will return to its original color.  Normally the solution is left on the surface to continue to sanitize any stubborn mold or mildew spores and the next rain storm is utilized to gently rinse any remaining dead algae.
Soft washing doesn't damage other exterior surfaces of your home or harm your plants.
Why Should You Soft Wash Your Roof?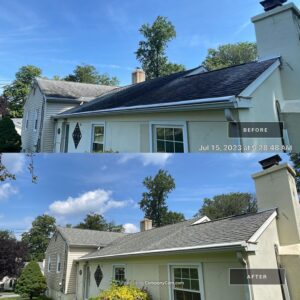 If you have black streaks all over your shingles, that's probably Gloeocapsa magma (algae). Algae thrive in hot and humid conditions, and they can damage your roof significantly. A roof infested with organic growth loses its ability to reflect UV light, and the shingles eventually start to show signs of wear and damage.
Roof soft washing effectively removes algae, among other unwanted substances, without damaging your shingles and voiding your warranty. A soft wash can clean your roof effectively while preserving the roof's structural integrity. With a soft wash, you won't have to worry about costly repairs or premature replacement. As mentioned earlier, we are seeing that many insurance companies are now requiring a roof with black streaks or organic growth to be cleaned prior to the sale of a home or making the requirement for the new homeowner.
Why Is Roof Soft Washing Safer for Your Roof?
We use the same method and solution as recommended by the Asphalt Roofing Manufacturers Association (ARMA) guidelines.  This means that your roof is cleaned safely and correctly, with no risk of damage and will NOT void any remaining warranty you may have on the roof.
Contact Us Today!
Along with our flagship power-washing services, Applied Power Wash also handles roof soft washing and we would be happy to discuss your exterior cleaning needs with you. Contact us to schedule an appointment today!